Disclosure: This article may contain affiliate links (identified by a ° symbol). These financially support this website - and our chocolate research - at no extra cost to you.
Find out more
.
Step back to 1964 and Cardiff-born Roald Dahl published his captivating confectionery tale, Charlie And The Chocolate Factory°, where, against the odds, 11-year-old Charlie Bucket discovers the final golden ticket in a global quest, his key to seeing the inner workings of eccentric chocolatier Willy Wonka's chocolate factory. The tale tells of misadventures with Augustus Gloop, Veruca Salt, Violet Beauregarde, and Mike Teavee, ending with the charismatic Oompa-Loompas coming to the rescue. The happy-ever-after tale wraps up with Charlie becoming the heir to the Chocolate Factory.
The tale has stood the test of time, albeit with controversies over race, with rewrites in 1973 and again in 2023 to modernise the text.
It was turned into a musical film in 1971, Willy Wonka & the Chocolate Factory°, with an iconic performance of Wonka by actor Gene Wilder and of Charlie by Peter Ostrum. The musical was produced by Wolper Pictures and, perhaps curiously, The Quaker Oats Company, with visions of creating a Wonka brand of chocolate. Formulation problems meant the bars had to be pulled from the shelves, so it was never the tie-in success it could have been.
A darker, fantasy edition, Charlie and the Chocolate Factory°, debuted in 2005 directed by Tim Burton (from such directing fame as Beetlejuice, Edward Scissorhands, and The Nightmare Before Christmas) and starring Johnny Depp as the enigmatic lead character. The Willy Wonka Candy Company, a division of Nestlé, had another go at selling Wonka bars as a movie tie-in, but these were eventually discontinued in January 2010 due to dwindling sales.
Fast forward to 2023 and this time we've got another Wonka movie. However, this time we're going back in time. This is the origin story, or a prequel, to the musicals and the books you know and love.
---
The Origin Story Plot
The beauty of a prequel is that it can tell any story and explore characters in a way that has never been done before. Indeed, that's the plan in this Warner Bros. prequel film.
In the works since 2016 and first reported in May 2021, we were teased with details of a fresh new musical that intended to explore the life of a young Willy Wonka. With David Heyman (of the Harry Potter film adaptations) at the helm, and with Paul King (of Paddington and Paddington 2) as director and co-writer alongside comedian Simon Farnaby (from the Paddington films, and the Horrible Histories and Mighty Boosh television series), you can bet we're in for a fun and comical adventure here.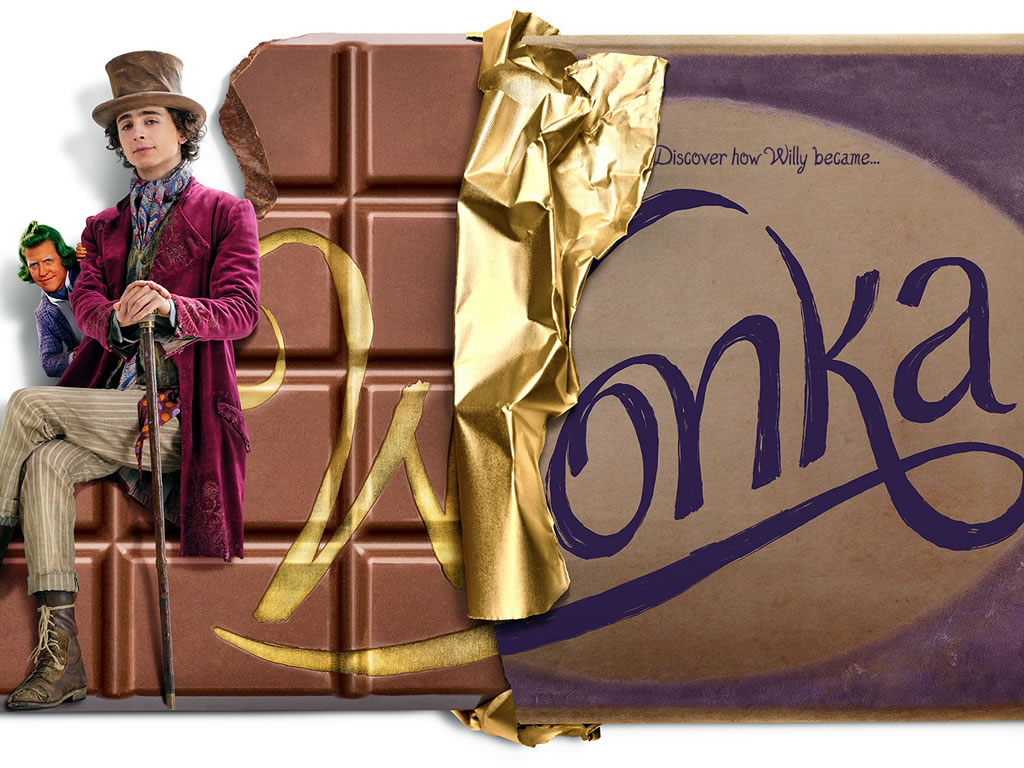 By the end of the movie, you should better understand the chocolate maker's motivation to set up his chocolate factory. But it's not as simple as that (and frankly, that would be a very short film if that were the case). Instead, we're treated to lashings of magic, music, emotion, twists and turns, with a heart-warming theme and sprinklings of humour throughout the duration. You should walk out of the cinema realising the best things in life begin with a dream, and that anything is possible when you believe - two very powerful messages for kids and adults alike.
So what's the premise of this tale?
Inventor Willy Wonka spent seven years globe-trotting, perfecting his chocolate making culinary skills. Set in yesteryear, he plans to open a chocolate shop (the precursor to his chocolate factory), but the legendary Chocolate Cartel are ready to make life difficult for him. This is a journey where Wonka battles his enemies to set up not just any shop but "the greatest chocolate shop the world has ever seen".
---
Timothée Chalamet as Willy Wonka, Hugh Grant As An Oompa-Loompa & The Rest of the Cast
It was a close call between Timothée Chalamet and Tom Holland, but Chalamet ultimately landed the role of the infamous and charismatic Willy Wonka.
French American actor Chalamet, perhaps most famous for films Beautiful Boy and The King, brings a youthful energy to the narrative, depicting Mr Wonka as a young canny businessman. His script emphasises Wonka's belief that he is the world's greatest inventor and chocolate-maker, with a dash of magic and showmanship blended in for good measure.
Quintessential Englishman Hugh Grant (from films such as Notting Hill, Bridget Jones's Diary, Love Actually, Two Weeks Notice, About a Boy, and countless others) is cast as an iconic Oompa-Loompa in this latest rendition. In fact, he's a "perfectly respectable size for an Oompa Loompa," so he claims.
Grant adds a dry wit to the role of the green-haired orange character, and his "funny little man" dance in the trailer has entertained many people.
Besides this pair, it's a veritable list of famous faces that appear in Wonka, with many of the cast drawn from Paddington and Paddington 2 productions.
Famous faces include Matt Lucas, Rowan Atkinson and Olivia Colman, alongside Sally Hawkins (The Shape of Water), Calah Lane (The Day Shall Come), Keegan-Michael Key (The Prom), Jim Carter (Downton Abbey), Rich Fulcher (Marriage Story), Natasha Rothwell (White Lotus), Rakhee Thakrar (Sex Education), Tom Davis (King Gary) and Kobna Holdbrook-Smith (Zack Snyder's Justice League), Paterson Joseph (Vigil), and Mathew Baynton (The Wrong Mans).
---
Behind the Scenes
There's a star-studded cast list and also plenty of names behind the scenes whose body of work you'll likely be familiar with already.
Michael Siegel, Cate Adams, Rosie Alison and Tim Wellspring are all executive producers on this film. Alexandra Derbyshire (from the Paddington films) and Luke Kelly (Roald Dahl's The Witches) take on the producer roles.
Chung-Hoon Chung (from Last Night in Soho) is the director of photography, while Nathan Crowley (from Tenet and Dunkirk) is the production designer.
From the Paddington films comes editor Mark Everson and costume designer Lindy Hemming.
Composer Joby Talbot (from the Sing films) is involved, while Neil Hannon of The Divine Comedy is creating original songs for this film.
---
New Trailers
Two official trailers have been released by Warner Bros. for this movie so far. The first trailer serves as a teaser and introduces us to the characters while the second trailer reveals a bit more depth to the plot itself.
First Wonka Trailer
Second Wonka Trailer
---
Chocolates & Sweets From The Movie
Warner Bros. kindly sent me a run down of the weird and wonderful Wonka original creations that are featured in the film.
Acacia Mint - Loved by Abigail the Giraffe.
Big Night Out - Layers of champagne truffle, white wine, red wine, whisky fudge and some old port. A tiny aspirin at the centre of the chocolate fizzes on the tongue causing the consumer to wake up with the aftertaste of shame and regret, but come five o'clock they will want to do it all over again.
Forty Second Sweet - Otherwise known as the Broadway Choc, it will make you break into song and dance like a perfectly choreographed Broadway Show!
Giraffe Milk Macaroon - Made with the distilled milk of a giraffe, this macaroon will make you feel the tallest in the room.
Hair Repair Éclair - Made from ground vanilla, from the mountains of Manilla, it includes a single drop of yeti sweat which will prompt full, thick growth. Try mixing it with chameleon juice for even more colourful results.
Hoverchoc - A cherry and salted caramel marshmallow chocolate containing a microscopic hover-fly that is so powerful it allows the person eating it to float. After 20 minutes, the hover-fly tires and exits through the rear.
Silver Lining - Condensed thunder clouds and liquid sunlight, helping you see the faint ray of hope beyond the shadow of despair. Side effects may include saying the word "huh" more often than usual.
The Wonka Bar - A single bar of chocolate, lovingly secured in a home-made wrapper.
Clearly there's scope for a few of them to be launched as merchandise product lines, even for a relatively short space of time. I bet there are plenty of chocolatiers across the country that would happily try their hand at creating Wonka inspired treats. Here's what I reckon could be created as part of a hypothetical range:
Confection
Real life version
Acacia Mint
Acacia is used in gum arabic (gives a glossy sheen to products). So, some sort of shiny dark chocolate shell (perhaps decorated in a green giraffe print) with a lively mint centre would suit this name. Look no further than Lauden Chocolate's Fresh Mint chocolate. It's heavenly.
Big Night Out
This is a tricky one as combining champagne, white wine, red wine, whiskey and port in one will be messy, much like the after effects! Maybe a fudgy champagne truffle encased in a woody single origin dark chocolate might work? Or maybe this is a collection of five individual bonbons waiting to happen?
Forty Second Sweet
This one needs to be a slow melting toffee to reach at least 40 seconds, but needs layers of complex flavours that transition. Think Paul A. Young's Christmas Dinner truffle, but in toffee form.
Giraffe Milk Macaroon
I'd opt for a macaron, but a tall stack of them. A bit like Hotel Chocolat's Macarons

°

, but three times as big. The colourings of a giraffe would be nice here. As for flavour, it could be anything, but caramel would probably tie nicely into the theme.
Hair Repair Éclair
We need Madagascan vanilla and a salted component here. The mention of Éclair makes me thing of choux dough, so maybe some sort of bakery chocolate fusion product, like Pump Street's Rye Bread bar, but with vanilla and choux dough flavours instead?
Hoverchoc
A dark chocolate dome with a layer of cherry marshmallow, topped with a gooey salted caramel. Not a million miles away from the Mallow Tailor's Caramallow.
Silver Lining
Perhaps earthy flavours from a single origin dark chocolate with popping candy to represent the thunder, and maybe a vivid yellow liquid passion fruit centre to represent the sunshine? Something like Wood Row's Passion Fruit Caramel Ganache.
The Wonka Bar
A dark milk chocolate would be perfect here, from a single origin. São Tomé might be a good place to start, with something like Minimalist's Dark Milk Chocolate bar, or Cacao Equador's 52% milk chocolate bar.
---
Release Date
Wonka is set to launch in theatres and in IMAX cinemas internationally from 8th December 2023.
Cineworld has given the film the 4DX experience treatment, so if you're looking for a movie experience with motion and special effects, check it out.
---
Verdict
if you've watched the 1971 and 2005 films, you'll want to see the Wonka movie to see Chalamet shed light on this chocolatier's motivation to create the world's greatest chocolate factory.
There's a great degree of production value and wit lent from the Paddington bear films, but that should only serve to enhance the production qualities here. I'm a huge fan of Paddington, and feel the family-friendly films blend a solid storyline with a great cast and immersive set design that makes the Peruvian bear feel very real. From the trailers above, it looks like this recipe for success has been applied to this chocolate maker's tale. Indeed, if you love the Paddington franchise, you'll probably enjoy this film too.
The fact it is released a couple of weeks before Christmas means it will cement itself as a wonderfully festive and feel-good film in the eyes of many cinemagoers, and is likely to create bumper pay days for cinema chains across the country and across the globe.
It's a testament to Roald Dahl's legacy that 33 years after his death, films are still being created around his captivating tales.
While time will be the ultimate judge, my money is on the Wonka movie being pretty successful, racking up awards in its wake.
My question for Nestlé is are they ready for another attempt at selling Wonka bars as a movie tie-in? Given we're all after experiential memories nowadays, there's bound to be more of an appetite for it in 2023. Bonus points if they hide golden tickets in a handful of bars for a real life factory tour!
Will you be booking cinema tickets to see this new movie? If so, are you choosing regular tickets or IMAX tickets? Let me know in the comments below.